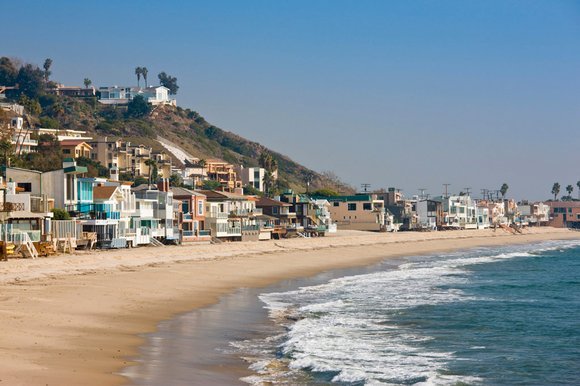 Malibu Beach, known by nickname "The 'Bu" by surfers and locals is a prosperous beach city in Los Angeles with a population estimated to be around 12,645 according to the census of 2010.  Malibu is spread across a 21-mile (34 km) strip of prime Pacific coastline. The city is confined by Topanga Canyon to the east, the Santa Monica Mountains consisting of Agoura Hills, Calabasas, and Woodland Hills to the north, the Pacific Ocean to the south, and Ventura County to the west. The beach is famous for its warm sandy beaches and for being the home of many Hollywood movie stars and others associated with the entertainment industry.
Most residents of Malibu live within a few hundred yards of Pacific Coast Highway which navigates the city. Some other residents live up to a mile away from the beach in narrow canyons and other residents of the unincorporated canyon areas identify Malibu as their hometown as well.
The hills behind Malibu are carpeted by California State Parkland which provide widespread horseback-riding, hiking, running, and mountain-biking options, affording many different views of the Santa Monica Mountains. The curve of the Santa Monica Bay, Santa Catalina Island, and the San Fernando Valley are also seen. There are some other points of access to the Backbone Trail System scattered throughout the local canyons, as well as a variety of smaller, local trail-heads.
Malibu Civic Center have several shopping centers including the Malibu Country Mart, the Point Dume Plaza, and Malibu Lumberyard. The Malibu Civic Center is well known for being frequented by paparazzi and tourists looking to catch a glimpse of local celebrities.