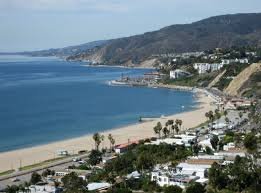 Pacific Palisades is a neighborhood and district in the Westside of the city of Los Angeles. Its bordered to Brentwood in the east, Malibu and Topanga to the west, in southeast Santa Monica, the Santa Monica Bay to the southwest, and in the north Santa Monica Mountains.
The area currently has about 27,000 residents. It is primarily a residential area, with a mixture of large private homes, small houses, condominiums, and apartments. The median yearly household income in 2009 was $168,008.
Pacific Palisades is a vivacious small business district having Sunset Boulevard and Via de la Paz as its center. A farmers' market takes place every week along with various restaurants, cafés, and coffee shops in addition to boutiques, shops, banks, offices, and local events. A Chinese restaurant named 'House of Lee' held only liquor license in the neighborhood as there was a virtual ban on drinking alcohol for many decades.
Pacific Palisades is being served by five schools Pacific Palisades Elementary School, Canyon Elementary School, Marquez Elementary School, Revere Charter Middle School and Palisades Charter High School. Following the private schools in Pacific Palisades; Calvary Christian (K–8), Village School (pre-K–6), Corpus Christi (K–8), St. Matthew's Parish School (PS–8), Seven Arrow's (K–6) and Westside Waldorf (K–8).
On the eve of Independence Day the community's Chamber of Commerce sponsors full day events, a parade down Sunset Boulevard, followed by fireworks show at Palisades High School football field.
There are some large parklands and a number of hiking trails in the district. Department of Recreation and Parks in Los Angeles operates numerous recreational facilities in Pacific Palisades at 851 Alma Real Drive. The Park consist on 117 acres have barbecue pits, four baseball diamonds (both lighted and unlighted), lighted basketball courts (both indoor and outdoor), a children's play area, a football field, an indoor gymnasium (no weights are offered), picnic tables, lighted tennis courts, and lighted volleyball courts. The facility also has a kitchen, a stage, a television area, and various scheduled athletic and non-athletic activities. The Pacific Palisades Tennis Court, also at that address, has eight courts. Rustic Canyon Park, Temescal Canyon Park and Will Rogers State Historic Park and Polo Club are also serving more or less similar facilities.