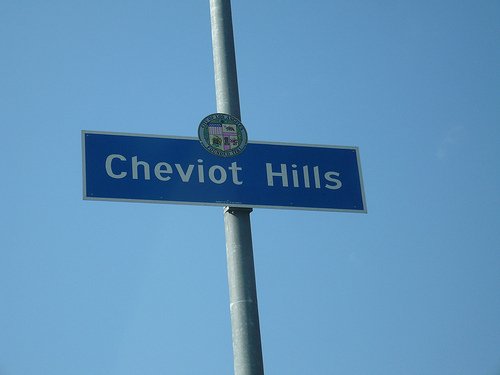 Cheviot Hills is  another affluent neighborhood on the Westside of Los Angeles.
Cheviot Hills is edged on the north by Pico-Robertson, Beberlywood on the east, Palms on the south, Rancho Park on the west and West Los Angeles and Century City on the northwest. the open areas of Rancho Park Golf Course and Hillcrest Country Club also include in the neighborhood.
The 2000 U.S. census calculated 6,945 residents in the 1.54-square-mile Cheviot Hills, 4520 people in one square mile is the lowest range in the city. 7303 was the count in 2008 and median age is 42. The city's highest percentage of 50 to 64 years people also reside in Cheviot Hills. The neighborhood was considered "not especially diverse" ethnically, with a high percentage of white people. The breakdown was whites, 78.8%; Latinos, 8.3%; Asians, 9.1%,blacks, 1.3%; and others, 2.5%.
$111,813 was the median yearly household income by 2008 which is higher figure for Los Angeles and the percentage of households earning $125,000 and up was considered high for the county with the average household size of 2.2 people. 35.7% and 64.3% of the house or apartment are acquired by the renters and owners respectively.
By 2000, 60% residents of neighborhood are aged 25 and older had earned a four-year degree, a high figure for both the city and the county. The schools within Cheviot Hills are Overland Avenue Elementary School and Vista School.
Rancho Park Golf Course and a Tennis Court are located in the Cheviot Hills Recreation Center. With the capacity of 80 to 100 people, a community center is located. In addition they have an auditorium, barbecue pits, a lighted baseball diamond, an unlighted baseball diamond, lighted indoor basketball courts, lighted outdoor basketball courts, a children's play area, an indoor gymnasium without weights, picnic tables, and lighted volleyball courts. The Cheviot Hills Tennis Courts consists of fourteen lighted tennis courts. An outdoor unheated swimming Pool is also one of the attractions. Cheviot Hills has been captured for filming as its located nearby both Fox Studios and Sony Pictures Studios. The Ropers television series from the late 1970s and the movie Private School in 1983.