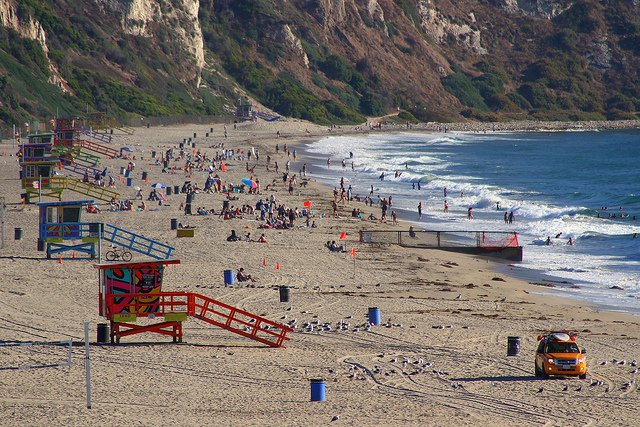 Torrance is a 20.5 square miles (53 km2) prosperous city in the southwestern region of Los Angeles, California, United States. The city has wonderful percentage of growth since its incorporation in 1921.
Torrance is well known for its low crime rates, the city consistently ranks among the safest cities in Los Angeles County.
Torrance has the second highest percentage of Japanese in North America (8.88%).
Torrance is a coastal community in southwestern Los Angeles County, sharing the climate and geographical features common to the Greater Los Angeles area.
The city is flanked with Redondo Beach Boulevard and the cities of Lawndale and Gardena to the north; Western Avenue and the Harbor Gateway neighborhood of Los Angeles to the east; the Palos Verdes Hills with the cities of Lomita, Rolling Hills Estates and Palos Verdes Estates on the south; and the Pacific Ocean and city of Redondo Beach to the west.
One of the country's few urban wetlands, the Madrona Marsh, is found in Torrance to explore. It is a nature preserve, on land once set for oil production and saved development, with restoration projects enhancing the vital habitat for birds, wildlife, and native plants. A Nature center provides activities, information, and classes for school children and visitors of all ages.
The Del Amo Fashion Center, at 2.5 million square feet (232,000 m²), is one of the five largest malls in the United States by gross leasable area. The current mall was created when Del Amo Center, built in 1958, merged with Del Amo Fashion Square, built in 1970. The Armed Forces Day Parade in Torrance, which was first produced in 1960, is the longest running military parade sponsored by a city. It is held annually on Armed Forces Day, and runs down Torrance Boulevard. The parade features military vehicles, school bands, and prominent community members.
The Torrance Cultural Arts Center hosts cultural events year-round. Regular performances are provided by the groups belonging to the Torrance Performing Arts Consortium, including The Aerospace Players, Torrance Art Museum, Los Cancioneros Master Chorale, South Bay Ballet, South Bay Conservatory, and The Torrance Symphony.
Torrance City Parks looks after a number of parks in the city. The detail is as follows:
Wilson Park — the focal point 44 acres park with extensive picnic and sports facilities, including a modern gymnasium, skatepark, and roller-hockey rink. Wilson Park also hosts the Torrance Farmers Market on Tuesdays and Saturdays.
Madrona Marsh Wildlife Preserve & Nature Center — a rare Southern California wetlands habitat with higher Coastal sage community native plants areas, wildlife and birdwatching, and a Nature center with natural gardens classes – located centrally in the city.
Columbia Park — the large recreational urban regional park, with numerous picnic areas, field sports facilities, walking paths, jogging trails, and a competitive cross country running racecourse. The city's Cherry blossom tree grove, part of Living Tree Dedication program, is in Columbia Park.
Torrance Smart Gardening Center — Columbia Park features a Community Garden providing planting beds and "community" for residents. It is one of twelve county-operated Smart Gardening Centers around the region. Columbia Park additionally serves as home to the Home Garden Learning Center, and is a backyard composting demonstration center provided by Los Angeles County.
Torrance Beach Park and "Rat Beach" — The Strand, a paved bicycle path that runs mostly along the Pacific Ocean shoreline in Los Angeles County.
Torrance has a Mediterranean climate or Dry-Summer Subtropical, the rainy season is November through March. The temperatures can vary as much as 18 °F between inland areas and the coast, with a temperature gradient of over one degree per mile (1.6 km) from the coast inland.
According to the report of United States Census of 2010, 145,438 inhabitants are spending life in the city. The population density was 7,076.1 people per square mile, where racial breakdown was 51.1% White, 34.5% Asian, 2.7% African American, 0.4% Native American, 0.4% Pacific Islander, 5.4% from other races, and 5.5% from two or more races.
There were 2,840.3 housing units per square mile, owners occupy 56.5% whereas 43.5% were held by renters. Median household income of city was $77,061 with 7.4% of the population living below the federal poverty line.
A library named after a former mayor, in Civic Center is being operated along with five other branches in city.
Torrance Unified School District bordered by the Palos Verdes Peninsula on the south, the cities of Redondo Beach and Gardena on the north, the City of Carson on the east and the Pacific Ocean on the west. The district's jurisdiction includes approximately 21 square miles and it operates 17 elementary schools, eight middle schools, five high schools, three adult education centers, and a child development center.
The Torrance Unified School District's five high schools are:
Torrance High School
North High School
South High School
West High School
Kurt Shery High School (continuation)
The Torrance Unified School District's eight Middle Schools are:
Calle Mayor Middle School
Casimir Middle School
Bert Lynn Middle School
Hull Middle School
Jefferson Middle School
Madrona Middle School
Magruder Middle School
Richardson Middle School
The Torrance Unified School District's 17 Elementary Schools are:
Hickory Elementary School
John Adams Elementary School
Torrance Elementary School
Howard Wood Elementary School
Anza Elementary School
Arlington Elementary School
Arnold Elementary School
Carr Elementary School
Yukon Elementary School
Walteria Elementary School
Riviera Elementary School
Towers Elementary School
Fern Elementary School
Edison Elementary School
Lincoln Elementary School
Seaside Elementary School
Victor Elementary School
Two private high schools are also located in Torrance:
Bishop Montgomery High School (administered by the Roman Catholic Archdiocese of Los Angeles)
Pacific Lutheran High School
Eight private elementary/middle schools are in Torrance:
Ascension Lutheran School,
Riviera Hall Lutheran School,
Riviera Methodist School,
South Bay Junior Academy,
Nativity Catholic School,
First Lutheran School,
St James Catholic School,
St Catherine Laboure Catholic School.