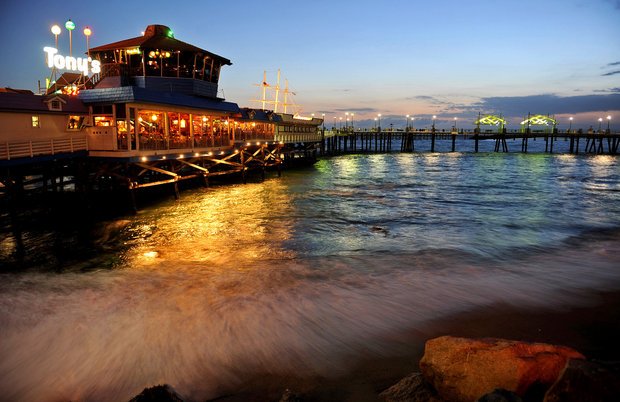 Redondo Beach, 6.2 square miles (16.1 km²), is one of the three Beach Cities located in the South Bay region of the greater Los Angeles area, California, United States.
Originally it was part of the Rancho San Pedro Spanish land grant that later became the South Redondo area. The city's territory has an unusual shape including an area along the beach and another strip inland from Manhattan Beach and Hermosa Beach.
According to United States census of 2010 population was 66,748 up from 63,261 in 2000. The population density was 10,751.1 people per square mile (4,151.0/km²). The racial makeup of Redondo Beach was 49,805 White, 1,852 African American, 291 Native American, 8,004 Asian, 199 Pacific Islander, 2,725 from other races, and 3,872 from two or more races. Hispanic or Latino of any race were 10,142 persons.
The Census reported that 66,317 people lived in households, 367 lived in non-institutionalized group quarters, and 64 were institutionalized. The average household size was 2.29. There were 16,229 families (55.9% of all households); the average family size was 2.94. Redondo Beach had a median household income of $98,916, with 5.9% of the population living below the federal poverty line.
According to public data from the Los Angeles Times, real estate prices increased almost 20% per year between 1999 and 2005. Properties within short walking distance of the ocean routinely sell for well over $1 million. Those with direct, unhindered views routinely ask in excess of $2 million.
The Redondo Beach Unified School District serves the city. Redondo Union High School is the zoned high school. The Redondo Beach Educational Foundation was originally founded in 1992 and revitalized in 2008. They fund enrichment programs that include music, science, counseling and college trips.
The first library in Redondo Beach began as a reading room in 1895. It was placed on the National Register of Historic Places in 1981. A North Branch Library was also established in 1930 and started at the Grant Community Hall, it then moved to its current location at 2000 Artesia Boulevard in 1949. A new North Branch Library was constructed on the site in 2009 and opened its doors on September 28, 2010. The North Branch Library is the first City owned Green building and received Gold LEED certification.