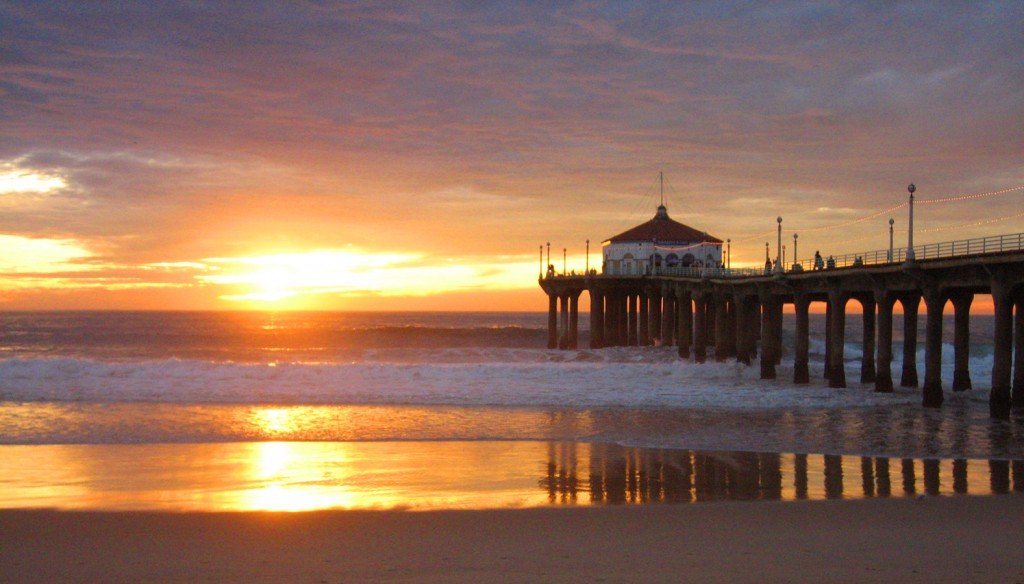 Manhattan Beach is 4.9 square miles coastal city in Los Angeles, California. The city located on Pacific coast, south of El Segundo, and north of Hermosa Beach. Manhattan Beach is one of the three Beach Cities in the South Bay. Manhattan Beach is entertained by ocean breezes that provide clean air and summer temperatures between 10 to 20 °F and is cooler than the inland regions of Southern California.
Many high profile individuals in the sports and entertainment industry live in Manhattan Beach due to its oceanfront desirability, top performing school district, and commuting distance to Los Angeles.
The tallest hill is 244 feet high and located in the city's southwest region. The only remaining exposed sand dune is at Sand Dune Park, where sand resembling the original landscape can also be found.
Roughly 150 feet wide beech was extended to 400 feet and 2.1 miles long early in this century. The sand was carried southward by the ocean's natural littoral flow and widened Manhattan Beach. Manhattan Beach is a hotspot for beach volleyball and surfing. Open Volleyball Tournament and the International Surf Festival held every year in August at Manhattan Beach.
The city is divided in several distinct neighborhoods i.e. "Sand Section", "Hill Section", "Tree Section", "Gas Lamp Section", "The Village", "Manhattan Heights", "East Manhattan Beach", "Liberty Village", "Poet's Section" (Shelley, Tennyson, Longfellow, Keats), and "El Porto" (North Manhattan Beach).
"Downtown" Manhattan Beach is considered the heart of the city. The area runs along Manhattan Beach Boulevard and the streets perpendicular to the Manhattan Beach Pier and Valley Drive. There are many Zagat rated casual-fine dining restaurants, specialty boutiques and retailers that create a pedestrian friendly, mixed-use downtown center. The Metlox site, where the pottery factory once stood for decades, was closed in the early 1990s and redeveloped into a mixed-use center. The new Metlox site includes a luxury boutique hotel, spa, restaurants, shops and underground parking.
For over 5 decades Manhattan Beach hosts a popular annual Hometown Fair at Live Oak Park. It presents food and drink, live music, games and booths to raise funds for local causes.
According to the United States Census of 2010 Manhattan Beach had a population of 35,135. The racial breakdown was 84.5% White, 0.8% Black or African American, 0.2% Native American, 8.6% Asian, 0.1% Pacific Islander, 1.2% from other races, and 4.6% from two or more races.
99.9% lived in households, 0.1% lived in non-institutionalized group quarters. The city is known for expensive housing and the average household size was 2.50 and the average family size was 3.10 according to the census report.
Manhattan Beach had $134,445 median household income and 2.9% of inhabitants were forced to spend life below the federal poverty line.
Because of high earning and high education Manhattan Beach is considered as one of the best suburbs as it is second most educated city in Los Angeles and fifth in the state of California.
The only public high school in Manhattan is Mira Costa High School. The Manhattan Beach Unified School District has test scores ranked #3 in the State of California. Manhattan Beach Middle School is the middle school in the city. Manhattan Beach Unified School District provides public education in Manhattan Beach which oversees five elementary schools (Grandview, Meadows, Pacific, Pennekamp, Robinson).
Following are the Private schools in Manhattan Beach
American Martyrs Catholic School
Manhattan Academy
Montessori School of Manhattan Beach
Journey of Faith Christian School.
There are several public parks in the Manhattan Beach. Polliwog Park, a largest and most popular park is located on Manhattan Beach Boulevard. It offers a small lake, open-air concert amphitheater, playground equipment, picnic tables, restrooms, and a fenced dog exercise area. Marine Avenue Park, west of Aviation Boulevard on Marine, has several lighted ball fields, basketball courts, and an indoor racket ball facility. Live Oak Park in the downtown area has ball fields, playground equipment, tennis courts and picnic tables.