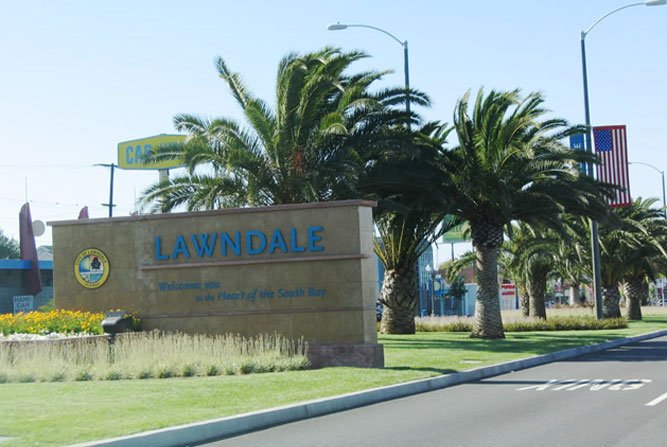 Lawndale is a 2.0 square miles (5.2 km2) city in the South Bay region of the Greater Los Angeles Area, California.
Lawndale is flanked with Redondo Beach on the west and southwest, Hawthorne on the north, Torrance on the southeast, and unincorporated area of El Camino Village on the east.
Lawndale experiences nice and warm weather with moderate rains in winter. Formation of the Palos Verdes Peninsula and its proximity to the beach make effects of the marine layer on almost identical, if not slightly lower levels of nearby beach cities Manhattan Beach and El Segundo.
According to the 2010 Census of United States there were 32,769 inhabitants in Lawndale. The racial breakdown was 14,274 (43.6%) White (16.2% Non-Hispanic White), 3,320 (10.1%) African American, 301 (0.9%) Native American, 3,269 (10.0%) Asian, 367 (1.1%) Pacific Islander, 9,374 (28.6%) from other races, and 1,864 (5.7%) from two or more races.
99.5% of the population lived in households whereas remaining low percentage lived in non-institutionalized group quarters.
In Lawndale had 10,151 housing units with average density of 5,141.9 per square mile. 34.4% of the house were occupied by owners whereas larger part 65.6% were occupied by renters. Median household income was $48,727, with a relatively high percentage 16.7 of the population living below the federal poverty line.
Following public transit serves Lawndale: the Lawndale Beat, the Gardena Bus 1, Metro Green Line and by Metro buses 211, 40 and 740.
Lawndale Elementary School District
Will Rogers Middle School serving 6th, 7th and 8th grades
Jane Addams Middle School serving 6th, 7th, and 8th grades.
F.D.R Elementary School
William Anderson Elementary School
William Green Elementary School
Mark Twain Elementary School
Billy Mitchell Elementary School
Lucille J. Smith Elementary School
Centinela Valley Union High School District
Lawndale High School
Leuzinger High School
Hawthorne High School
Lloyde High School
Environmental Charter High School is a charter school in Lawndale.
The newly built Lawndale Public Library is located adjacent to Lawndale City Hall.