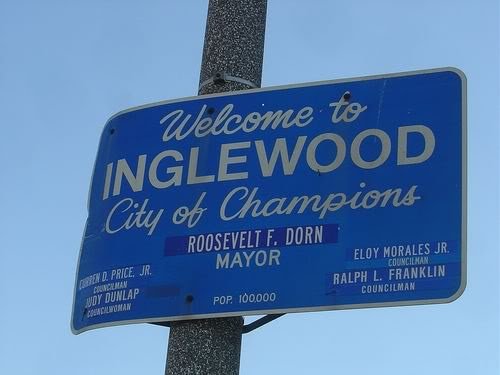 Inglewood is a city located in southwestern Los Angeles, California and experiences Mediterranean climate. The city is expanded on 9.1 square miles (24 km2).
There are a number of neighborhoods located in Inglewood, indicated by a symbol on street signs. Such as Morningside Park, Downtown, Fairview Heights, Arbor Village, Centinela Heights, Sports Village, Inglewood Knolls, and Lockhaven.
Boundaries of city Inglewood are not generally defined, it can be demarcated by Hyde Park on the north, Manchester Square on the east, Century Boulevard on the south and Prairie Avenue on the west whereas Morningside Park is located in the eastern part of Inglewood.
According to the census of United States in 2010 the total number of population was109,673. Roughly 12,062.1 people were living in a square mile with the racial division as 48,164 (43.9%) African American, 25,562 (23.3%) White (2.9% Non-Hispanic White), 751 (0.7%) Native American, 1,484 (1.4%) Asian, 350 (0.3%) Pacific Islander, 28,860 (26.3%) from other races, and 4,502 (4.1%) from two or more races. Hispanics or Latinos were more than the half of the population.
Most of the citizens (98.6%) lived in households, (0.9%) in non-institutionalized group quarters and remaining (0.5%) were institutionalized with 2.97 average household size.
There were 38,429 housing units at an average density of 4,226.5 per square mile (1,631.9/km²), of which 13,447 (37.0%) were owner-occupied, and 22,942 (63.0%) were occupied by renters. The homeowner vacancy rate was 1.5%; the rental vacancy rate was 5.5%. 43,040 people (39.2% of the population) lived in owner-occupied housing units and 65,131 people (59.4%) lived in rental housing units. Inglewood had a median household income of $44,558, with 20.1% of the population living below the federal poverty line.
The City of Inglewood operates a main library in the city Civic Center, in addition to a branch in the southeastern corner of the city, near the intersection of Crenshaw and Imperial and a branch in Morningside Park near the intersection of 85th Street and Crenshaw.
Inglewood Unified School District serves education to the city of Inglewood. There are two zoned high schools, Inglewood High School and Morningside High School, and an alternative high school, City Honors High School.
Some of it is in the Los Angeles Unified School District. LAUSD operates one school in the Inglewood city limits, Century Park Elementary.
Formerly known as Inglewood Union High School District is now known as the Centinela Valley Union High School District, opened in 1905, the Inglewood School District, then only operating primary schools, was within the high school district. The Centinela Valley district was given a new name in November 1944. On July 1, 1954, the Inglewood elementary school district withdrew from the Centinela Valley district, becoming a unified school district.
There are couple of Public charter schools in Inglewood:
Ánimo Inglewood Charter High School of Green Dot Public Schools[54]
Ánimo Leadership Charter High School of Green Dot[55]
Whereas Private schools include:
St John Chrysostom Elementary School is a private Catholic school.
St. Mary's Academy, "In 1966 St. Mary's Academy left its home of many years on Slauson Avenue in Los Angeles for a new building on Grace Avenue in front of Freeman Hospital"