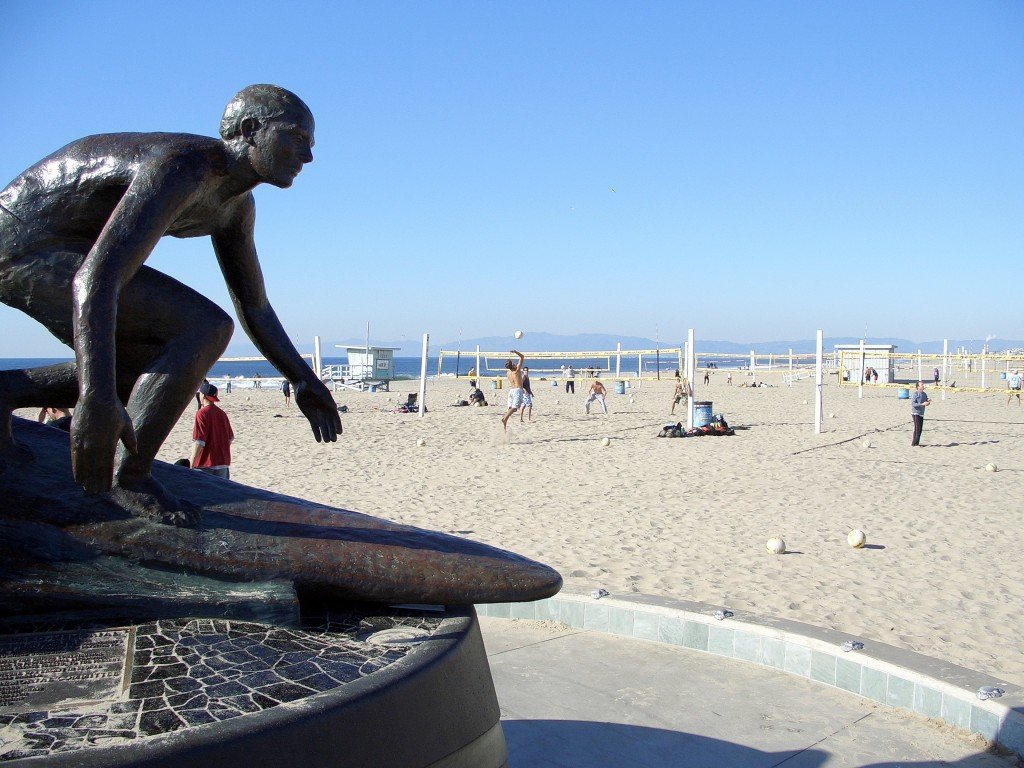 Hermosa Beach is a prosperous city in Los Angeles, California. It is one of the three beach cities and located in the South Bay region of the greater Los Angeles area.
The beach is famous for sunbathing, beach volleyball, surfing, paddle boarding and bars. The city itself extends only about 15 blocks from east to west and 40 blocks from north to south, with the Pacific Coast Highway running down the middle. The city experiences temperature is 70 degrees in the summer and 55 degrees in the winter.
A paved path, called The Strand, runs along Hermosa's beach from Torrance Beach in the south approximately twenty miles north to Santa Monica and the Hermosa Beach pier is at the end of Pier Avenue, which is one of the beach community's main shopping, eating and partying areas.
Hermosa Beach has an average of 325 days of sunshine a year. Because of its location, nestled on a vast open bay (Santa Monica Bay), morning fog and haze is a common phenomenon in May, June and early July. The rainy season is from late October through late March. Winter storms usually approach from the northwest and pass quickly through the Southland. There is very little rain during the rest of the year. Hermosa Beach usually enjoys a cool breeze blowing in from the ocean, keeping the air fresh and clean. Therefore, smog is less a problem for Hermosa Beach than elsewhere around Los Angeles.
According to United States Census of 2010 Hermosa Beach had a population of 19,506. The racial breakdown was 86.8% White, 1.2% African American, 0.3% Native American, 5.7% Asian, 0.2% Pacific Islander, 1.7% from other races, and 4.2% from two or more races.
99.9% of the citizen lived in households, 0.1% lived in non-institutionalized group quarters. Hermosa Beach had a median household income of $101,655, with 3.4% of the population living below the federal poverty line.
Fiesta Hermosa: Arts and crafts festival which has taken place for the last 35 years every Memorial Day and Labor Day weekend
Hermosa Ironman: Unofficial triathlon every July 4, consisting of running a mile in the sand, paddling a mile on a surfboard, and downing a 6-pack of beer. Then keeping it down for 20 minutes.
AVP Hermosa Beach Open: Started in 1969 and typically in June. Attracts combinations of pros and near pros. It's best to know a local to get in.
Hermosa Beach Film Festival: Started in 2005 and typically in August. Short films from each year are chosen to be screened at the Hermosa Beach Playhouse
International Surf Festival: Surfing, Paddleboarding, Pier to Pier Swim Events. Beginning of August
Hennessey's Paddle Board Festival: U.S. Paddleboard Championships. Typically in July.
Hermosa Beach Sunset Concert free concert series from bands who perform on the beach. Starts July 31 – Aug. 21 (4 Weeks)
Farmers' Market Every Friday from 12 noon to 4 pm, rain or shine. (Valley Drive between 8th and 10th Streets)
Sand and Strand Run The second oldest standing run in the L.A. area. Unique is its course design, with 45% of the run on the Strand and 55% on the beach. February during low tide.
Shakespeare by the Sea: the South Bay's free Shakespeare in the Park company. Performances run June through August in a variety of venues in Los Angeles and Orange County.
The Lighthouse Cafe, a seminal West Coast jazz venue, is located in Hermosa Beach.
The Hermosa Beach Community Drum Circle occurs every third Sunday of the month from noon to 3pm at Hermosa Pier.
The Comedy and Magic Club where comedian Jay Leno has been performing since 1978.
The wide flat beach makes Hermosa Beach one of the most popular places to play beach volleyball, from professional to amateur. Hermosa Beach is home to the AVP Hermosa Beach Open tournament, and several amateur CBVA tournaments during the year. The Strand stretches north into Manhattan Beach and south into Redondo Beach and is a popular place for walkers, joggers and biking. Of the three Beach Cities, only Hermosa Beach owns its own beach. The other two cities' beaches are owned by the county of Los Angeles.
There are eight parks for the inhabitants of Hermosa Beach:
Cypress Park, also known as Clark Field offers Baseball/softball diamond along with Basketball and tennis courts.
South Park has children's play area, Roller Hockey Rink, Large open field for Soccer and Football
Bi-Centennial Park (4th Street & Ardmore)
Fort Lots-o-Fun (6th Street & Prospect)
Noble Park (The Strand & 14th Street)
Edith Rodaway Friendship Park (Prospect Avenue between Gentry & Hollowell)
Valley Park (Valley Drive & Gould Avenue)
Kay Etow Park (Herondo Street and Monterey Boulevard)
Hermosa Beach has its own elementary school and middle school but high school students are served by either Manhattan Beach or Redondo Beach where rankings are in the 80 to 90th percentiles. Hermosa Beach residents are zoned to Hermosa Beach City School District for grades Kindergarten through 8. Before Proposition 13 passed, Hermosa Beach had five elementary schools (North, South, Hermosa View, Prospect Heights, Valley Vista) and one junior high school (Pier Avenue).
In 2005, Hermosa Valley and Hermosa View schools were honored as U.S. Department of Education National Blue Ribbon Schools, along with 33 California schools and less than 300 schools across the nation. The award was based on academic achievement. Hermosa schools are among the top 10% of schools in the state with students scoring at or above the 90% in the highest grade tested in reading and math. For the award, the Department of Education reviewed growth in scores over a three-year period.
The district has two schools:
Hermosa View Elementary (Kindergarten to Grade 2)
Hermosa Valley Elementary (Grades 3 through 8)
At the high school level, public school students can choose between two schools:
Mira Costa High School of Manhattan Beach Unified School District or
Redondo Union High School of the Redondo Beach Unified School District
The Hermosa Beach City School District as a whole received a score of 915 on the 2006 California Academic Performance Index, neighboring Manhattan Beach Unified School District scored just below at 906 making it one of California's best performing districts. Each individual school also ranks at the top of its respective category.
Hermosa Beach also has a private school:
Our Lady of Guadalupe, a Catholic school with classes up to the eighth grade. Although it is a religious school, there is no convent so most classes are taught by lay persons. Religious studies and services are provided by Franciscan friars and priests.
At one point the International Bilingual School, a Japanese preparatory school for grades K-9, moved to Hermosa Beach. In 1992 the school moved to Palos Verdes Estates.
The Los Angeles County Fire Department has a sectional lifeguard headquarters located at the Hermosa Beach Pier since the new building opened its doors since 2006, currently commanded by Capt. Tracy Lizzotte who leads the entire "TEAM HB" as part of "TEAM SOUTH" in the L.A. County Lifeguard. Currently located at 1200 The Strand housed a lifeguard garage where response vehicles have parked.