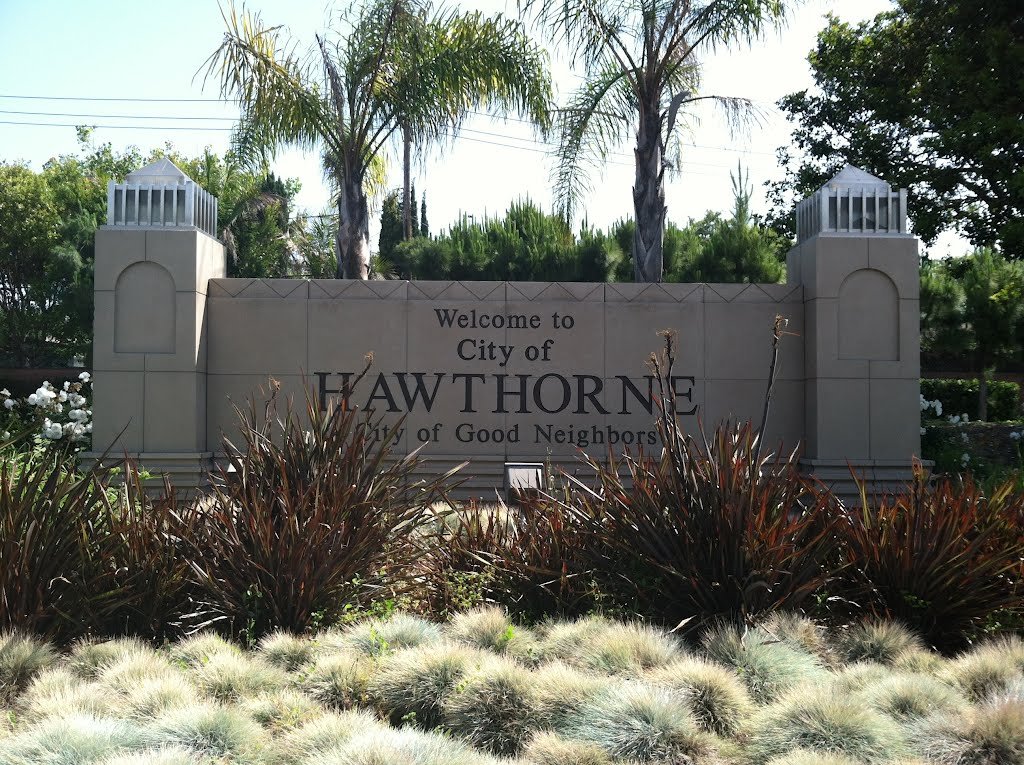 Hawthorne is a 6.1 square miles (16 km2) city in southwestern Los Angeles, California, located at five miles from the Los Angeles International Airport.
In the north of Hawthorne Lennox and Inglewood are located. To the east Athens and the city of Gardena. To the south El Camino Village, and the cities of Lawndale and Redondo Beach. In the west Manhattan Beach and El Segundo are situated.
The Century Freeway runs along the northern boundary of Hawthorne, with the LACMTA Green Line light rail line running down the center of the Century Freeway. The San Diego Freeway runs along the western boundary of Hawthorne. Major east-west streets in Hawthorne include Rosecrans Ave., El Segundo Ave., and Imperial Highway. Major north-south street include Aviation Blvd., Inglewood Ave., Hawthorne Blvd., Prairie Ave., Crenshaw Blvd., and Van Ness Ave.
Hawthorne, like the rest of the Los Angeles basin, is well known for its year-round Mediterranean climate. August is warmest and January is coolest month.
As per United States Census of 2010 Hawthorne had a population of 84,293. The population density was 13,835.7 people per square mile (5,342.0/km²). The racial makeup of Hawthorne was 27,678 (32.8%) White (10.3% Non-Hispanic White), 23,385 (27.7%) African American, 565 (0.7%) Native American, 5,642 (6.7%) Asian, 974 (1.2%) Pacific Islander, 22,127 (26.3%) from other races, and 3,922 (4.7%) from two or more races. Hispanic or Latino of any race were 44,572 persons (52.9%).
The Census reported that 83,754 people (99.4% of the population) lived in households, 208 (0.2%) lived in non-institutionalized group quarters, and 331 (0.4%) were institutionalized.
The population was spread out with 23,157 people (27.5%) under the age of 18, 9,487 people (11.3%) aged 18 to 24, 27,035 people (32.1%) aged 25 to 44, 18,395 people (21.8%) aged 45 to 64, and 6,219 people (7.4%) who were 65 years of age or older. The median age was 31.5 years. For every 100 females there were 93.2 males. For every 100 females age 18 and over, there were 89.6 males. The average household size was 2.94. There were 19,559 families (68.7% of all households); the average family size was 3.54.
During 2009–2013, Hawthorne had a median household income of $44,649, a high percentage 19.2 of the population living below the federal poverty line.
Hawthorne High School
Leuzinger High School (Lawndale, California)
Lawndale High School (Lawndale, California)
Juan Cabrillo Elementary School (Kindergarten-2nd grade)
Peter Burnett Elementary School (3rd-5th grade)
Richard Henry Dana Middle School (6th-8th grade)
Franklin D. Roosevelt-Kit Carson Elementary School (Hawthorne)
Will Rogers Middle School (Lawndale)
Cimarron Elementary School (Hawthorne)
Clay Middle School (Unincorporated area)
Washington Preparatory High School (Unincorporated area)
List of private schools is as follows:
Saint Joseph's Parish School (Catholic)
Southwest Day (5th-12th grade).
Hawthorne Math and Science Academy
Following are the Colleges and universities
Los Angeles Southwest College (in an unincorporated area in Los Angeles County)
El Camino College