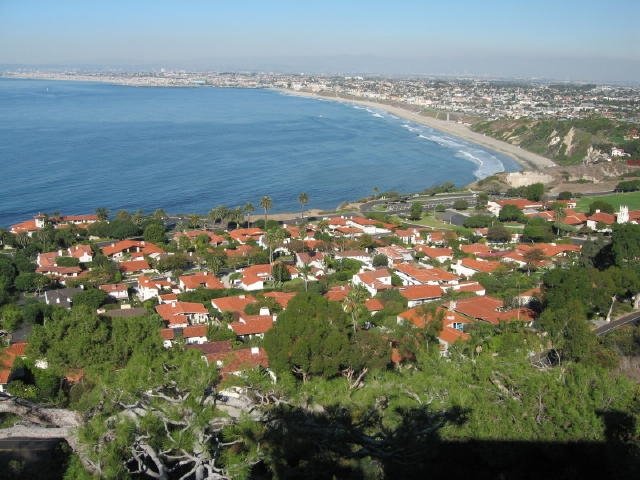 Palos Verdes Estates is an affluent city in Los Angeles County, California, United States, situated on the Palos Verdes Peninsula. The city was master planned by the noted American landscape architect and planner Frederick Law Olmsted, Jr.
The city is located along the Southern California coastline of the Pacific Ocean. There are several accessible beaches although most of the predominantly rocky shoreline is marked by high cliffs. Three noteworthy Palos Verdes Estates surf riding beaches exist among the estate homes along the coastline, and include: Haggerty's, the Palos Verdes Bluff Cove Beach (around the point, south of Haggerty's, which includes "indicator", "little reef", "middle", and "boneyard" surf breaks), and Lunada Bay.
Other significant features of the city are the scenic Palos Verdes Golf Club, a challenging 18-hole golf course and country club designed by George C. Thomas Jr and William "Billy" Bell in 1923, and the Palos Verdes Tennis Club.
According to 2010 United States Census there were 13,438 inhabitants in Palos Verdes Estates. The population density was 2,814.8 people per square mile. The racial breakdown was 77.0% White, 1.2% African American, 0.2% Native American, 17.3% Asian, 0.1% Pacific Islander, 0.7% from other races, and 3.6% from two or more races.
As per the census report 99.9% of the population lived in households, 0.1% lived in non-institutionalized group quarters. The average household size was 2.65. There were 4,083 families (80.6% of all households); the average family size was 2.97. Palos Verdes Estates had a median household income of $152,068, with 2.8% of the population living below the federal poverty line.
The city is served by the Palos Verdes Peninsula Unified School District. Palos Verdes Peninsula High School was ranked as 8th best among public and private high schools in the United States.
Palos Verdes Peninsula High School also annually honors the largest collection of National Merit Scholar commandments enrolled in a U.S. high school in any year.
Public school-enrollment students can attend either Palos Verdes High School in Palos Verdes Estates (Lunada Bay), or the larger Palos Verdes Peninsula High School, in adjacent Rolling Hills Estates. In 2002 Palos Verdes High School was re-commissioned as a high school again to accommodate the recent growth in student enrollments across the entire Palos Verdes Peninsula.
Chadwick School is another K-12 famous school in the city. On request of South Korean Government a sister school is established in Songdo Korea.
In 1992 the International Bilingual School, a Japanese preparatory school for grades K-9, moved to Palos Verdes Estates.
The Palos Verdes Library District operates the Malaga Cove Library in Palos Verdes Estates.