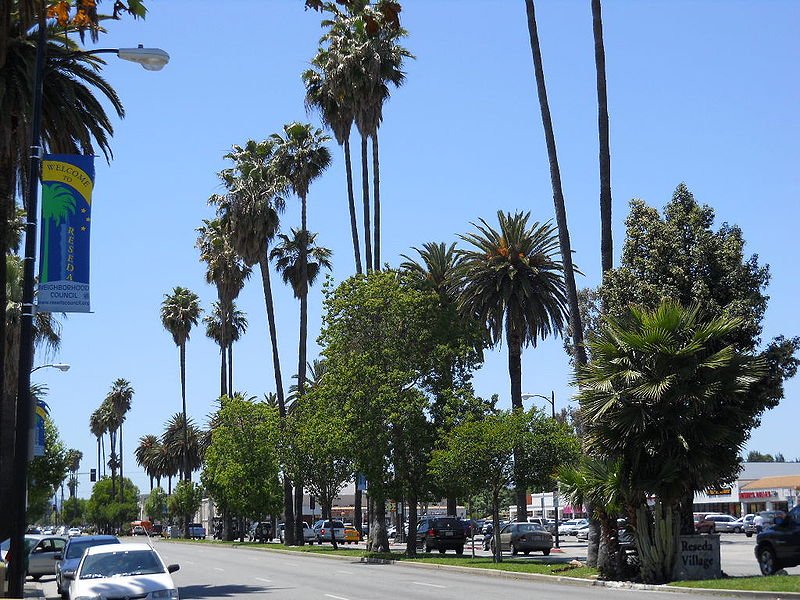 Reseda, a neighborhood founded in 1912 in the San Fernando Valley, Los Angeles, California. It had been associated to agriculture for a long time. The neighborhood was also struck twice by the earthquake in 1971 and 1994.
The neighborhood is bordered with Northridge on the north, Lake Balboa on the east, Tarzana and Encino on the south and Winnetka on the west. Roscoe Boulevard, White Oak Avenue, Victory Boulevard and Corbin Avenue are the street boundaries of Reseda.
According to United States census of 2010, there were 74,363 inhabitants in Reseda with 35.5 median age and $53,842 median yearly household income. Breakdown of inhabitants was Latinos, 43.5%; whites, 37.2%; Asians, 11.2%; blacks, 4.2%; and others, 3.9%. Housing stock, houses and apartments held by the owners were 51.5% whereas renters occupied 48.5% of them.
By 2000, 19% inhabitants were aged 25 and older with a four-year degree which is an average number for county and city. There are 15 public and 5 private schools serving Reseda. List of public schools is as follows:
Grover Cleveland High School, 8140 Vanalden Avenue
Reseda High School, 18320 Kittridge Street
Joaquin Miller Career and Transition Center, special education, 8218 Vanalden Center
Cantara Street Elementary School, 17950 Cantara Street
Blythe Street Elementary School, 18730 Blythe Street
John R. Wooden High School, continuation, 18741 Elkwood Street
Melvin Avenue Elementary School, 7700 Melvin Avenue
Garden Grove Elementary School, 18141 Valerio Street
Sven Lokrantz Special Education Center, 19541 Wyandotte Street
Reseda Elementary School, 7265 Amigo Avenue
Magnolia Science Academy 7, elementary, 18425 Kittridge Street
Diane S. Leichman Special Education Center, 19034 Gault Street
Bertrand Avenue Elementary School, 7021 Bertrand Avenue
Reseda Community Adult School, 18230 Kittridge Street
Newcastle Elementary School, 6520 Newcastle Avenue
Private schools are;
Applied Scholastics Academy Valley, 19000-A Saticoy Street
Saint Catherine of Siena, 18125 Sherman Way
Heart of the Valley Christian School, elementary, 18644 Sherman Way
Kirk o' the Valley School, elementary, 19620 Vanowen Street
Trinity Lutheran High School, 7357 Jordan Avenue
Reseda Country Club located at the intersection of Canby Avenue and Sherman Way, hosted a famous concert Boogie Nights fame during the Los Angeles punk rock and new wave scenes of the 1980s.
Reseda has a Park and Recreation Center which is developed at the corner of Reseda and Victory Boulevards. The facilities provided at the center are; has barbecue pits, a lighted baseball diamond, lighted outdoor basketball courts, a children's play area, a community room with a capacity of 200, picnic tables, an outdoor unheated seasonal pool, table tennis, lighted tennis courts, and lighted volleyball courts. The Park hosts a decorative lake for fishing and a large duck pond.
Operated by the Park, a Multipurpose Center developed for senior citizens next to the Recreation Center which offers some programs for the seniors.
A branch of the Los Angeles Public Library is also established at Reseda.