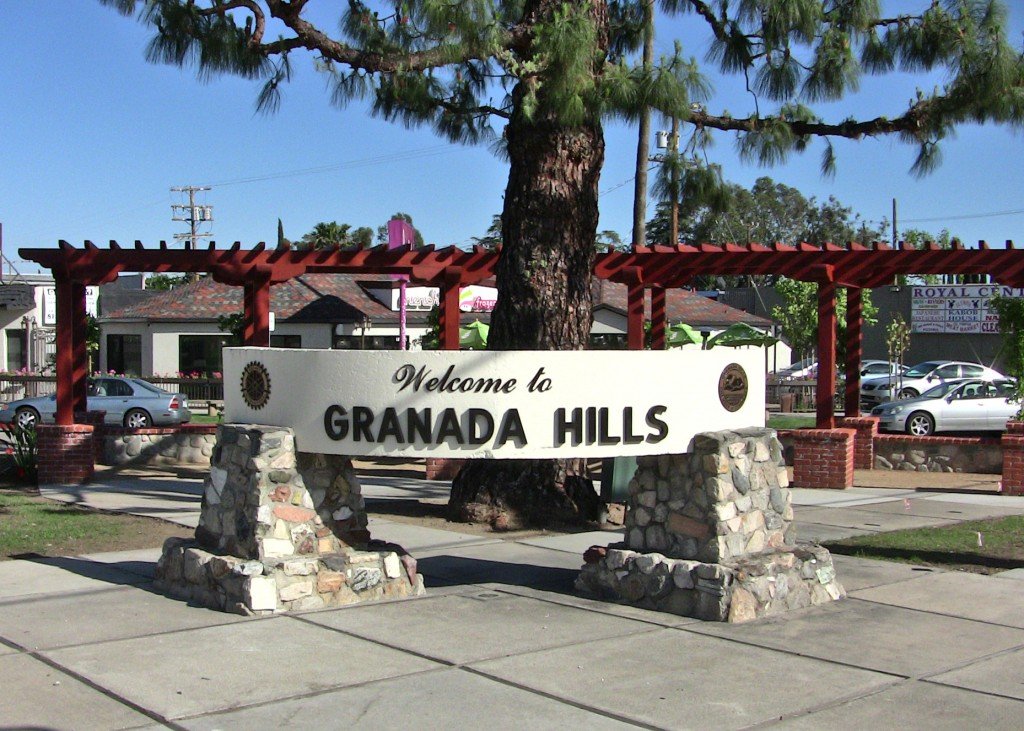 Granada Hills is a neighborhood in the San Fernando Valley, Los Angeles, California. Granada Hill is the point where first ever well of oil was drilled at the northern tip of Zelzah Avenue in 1916. The neighborhood is famous for an active sports program and a range of city recreation centers. Crops of apricots, oranges, walnuts and beans had been harvested. Vestiges of former citrus groves can still be seen as small groups of orange, lemon or grapefruit trees in some residential yards.
Located in the Santa Susana Mountains foothills, Granada is in north of the North Hills and Northridge districts, west of the Mission Hills and Sylmar districts, and just east of the Porter Ranch district.
The United States census of 2000 counted 50,535 residents in the 15.11-square-mile Granada Hills neighborhood. 3,344 people per square mile is among the lowest population densities for both the city and the county. Median age for residents was 37, considered old for city and county. The number of residents raised up to 53,998 in 2008.
Granada Hills was considered as highly diverse ethnically with a relatively high percentage of Asians. The breakdown of the population was whites, 55.5%; Latinos, 20.6%; Asians, 16.3%; blacks, 3.4; and others, 4.2%.
A high percentage of the median yearly household income in the city was calculated as $83,911 in 2008. Housing stock, and house or apartment occupied by the owners were 73.6% whereas renters held the remaining 26.4%. On average 2.9 people was the size of a household, an average figure for Los Angeles. The percentage of married people is higher in the county as 60.4% men were married whereas the percentage for the women was 58.5%. A large of veterans also spending life in Granada Hills which was 10.5% of the population.
Granada Hills is a prosperous neighborhood and is hot spot of mid-century architecture known as Mid-Century modern. Most of the homes at North of Rinaldi/West of Balboa have been featured in movies, commercials, magazine pictorials and classic examples of mid-century architecture.
Largely underdeveloped Park O'Melveny Park is the second largest park of the city, a smaller developed section with a large number of citrus trees, a small intermittent stream and picnic areas.
Mission Point or Mission Peak the highest point in Granada Hills has hiking trails and fire roads. Being the highest point in the area, the peak offers view of most of the San Fernando Valley and the Pacific Ocean and Downtown Los Angeles on a clear day. The hills are home of wildlife such as deer, golden eagle, bobcats, mountain lions, raccoons, and coyotes. The Granada Hills Recreation Center offers an auditorium, playground, sports facilities, and picnic areas. Another Park named Zelzah Park, has a bridle path, a children's play area, and picnic tables in it.
32% of the inhabitants aged 25 and older had earned a four-year degree by 2000. The neighborhood is rich when it comes to education as it has sixteen public and nine private schools. The list of the Public schools is as follows;
John F. Kennedy High School, 11254 Gothic Avenue
North Valley Charter Academy, 16651-A Rinaldi Street
Granada Hills Charter High School, 10535 Zelzah Avenue
Valley Academy of Arts and Sciences, 10445 Balboa Boulevard
George K. Porter Middle School, 15960 Kingsbury Street
Robert Frost Middle School, 12314 Bradford Place
Patrick Henry Middle School, 17340 San Jose Street
El Oro Way Elementary School, 12230 El Oro Way
Knollwood Elementary School, 11822 Gerald Avenue
Danube Avenue Elementary School, 11220 Danube Avenue
Jane Addams Continuation School, 16341 Donmetz Street
Tulsa Street Elementary School, 10900 Hayvenhurst Avenue
Haskell Elementary School, 15850 Tulsa Street
Van Gogh Street Elementary School, 17160 Van Gogh Street
Granada Elementary Community Charter School, 17170 Tribune Street
Rinaldi Adult Center (Adult School), 17540 Rinaldi Street #6
Nine  private schools are also serving the cause in the neighborhood; the list is as follows:
St. Euphrasia School, Elementary, 17637 Mayerling Street
Jewish Educational Trade School, 16601 Rinaldi Street
Our Savior's First Lutheran School, Elementary, 16603 San Fernando Mission Boulevard
Granada Hills Baptist Elementary School, 10949 Zelzah Avenue
De La Salle Elementary School, 16535 Chatsworth Street
Abraham Joshua Heschel Day School, Elementary, 17701 Devonshire Street
Pinecrest/Northridge School, Elementary, 17081 Devonshire
Heritage (Formerly Hillcrest) Christian School – 17531 Rinaldi Street (K – 8), 10949 Zelzah Street (Preschool)
St. Nicholas School, 9501 Balboa Blvd, Northridge, CA 91325 (Pre-School – 8)