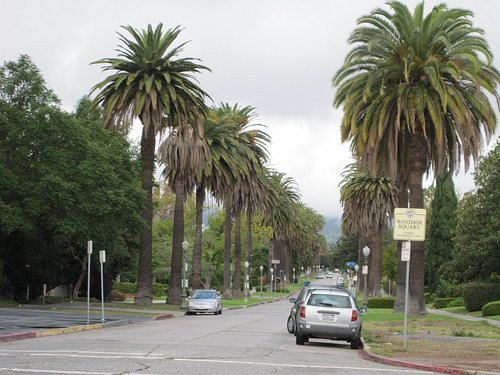 Windsor Square is a small, historic and wealthy urban neighborhood in the central region of Los Angeles, California. In 2008, the neighborhood had an estimated population of 6,197.
A beautiful tranquil park as a setting for family homes such as one sees in the English countryside in what was then an undeveloped and rural area about halfway between the city center (now Downtown LA) and the coast. Howard pushed the early city fathers to make his vision come true, and in 1911, Mr. Robert A. Rowan was able to initiate a unique residential development and called it Windsor Square.
The development was constituted as a private square. Both the homes and the streets would be privately owned. At that time there were dense groves of bamboo in the area that needed to be destroyed before trees and gardens could be cultivated. Intervening walls or fences were discouraged so that one garden ran into another, creating a park-like setting. Windsor Square was the first area in the city to have the power lines below grade–an extraordinary innovation for 1911.
To make sure that the homes were significantly upscale as befitted the exceptionally beautiful setting, deed restrictions were set at a minimum cost of $12,550 per home–an enormous amount at the time. Many outstanding architects designed homes for the area, including Paul Williams and A. C. Martin.
As a result, many of the city's elite moved west to Windsor Square, including Howard (his daughter still lives in his home on Windsor Blvd) and Norman Chandler, who took up lifelong residence with his wife Buffy on Lorraine Blvd. Oil magnate J. Paul Getty bought a property on Irving Blvd that is now Los Angeles's official mayor's residence.
The original "Square" ran from Wilshire Blvd. to Third Street, and from Plymouth Blvd. to Irving Blvd. The English flavor was enhanced by street names: Irving, Windsor and Plymouth. Lorraine Boulevard took its name from the developer's daughter Lorraine Rowan. Nurseryman Paul J. Howard designed and planted most of the magnificent gardens of Windsor Square and supervised tree planting.
According to the 2000 Census, the racial makeup of Windsor Square was 41.6% Asian, 37.7% White, 14.8% Latino and 4.3% Black. The median household income was $61,767, while the percentage of households earning more than $125,000 was high for the county.