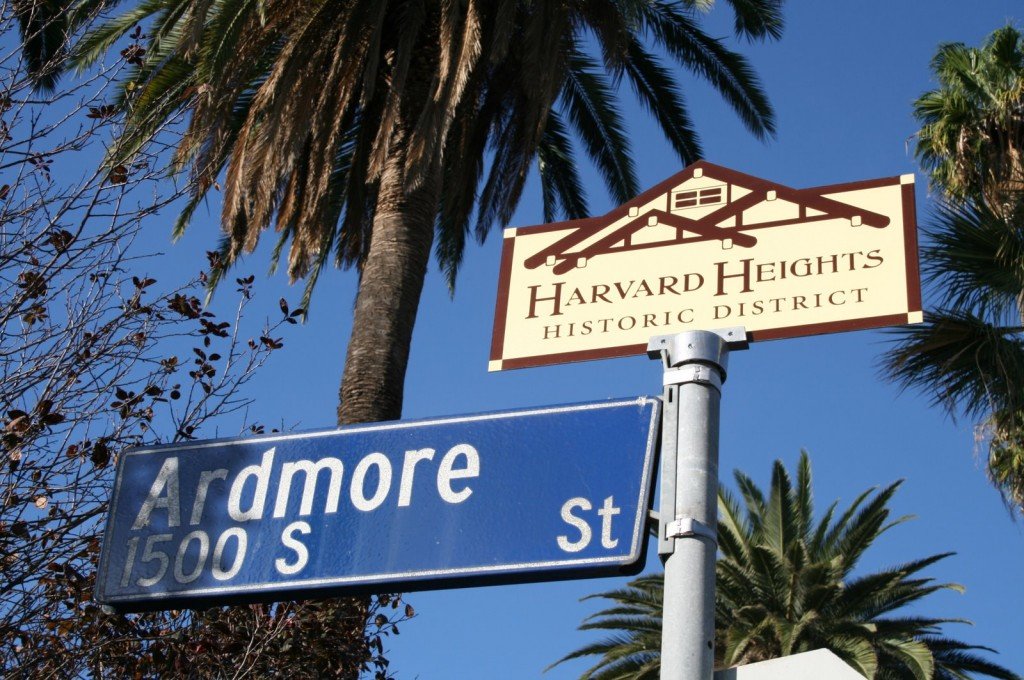 Harvard Heights is a densely populated, mixed-income neighborhood of 20,000+ people in Central Los Angeles, California. Within in it lies a municipally designated historic overlay zone designed to protect its architecturally significant single-family residences, including the only remaining Greene and Greene house in Los Angeles.
The neighborhood has one private and two public schools. It is the site of a private library dedicated to the memory of singer Ray Charles.
In 2013, the Los Angeles Neighborhood Initiative, in partnership with the City of Los Angeles and local stakeholders, will break ground on the Normandie Cordova Public Park project, located on the current vacant land at the west side of the intersection of Normandie and Cordova. This pocket park project is expected to amplify the community friendly green space, and will include recreational spaces for both adults and children in the Harvard Heights neighborhood.
Harvard Heights as a broader area, flanked by Koreatown to the north, Pico-Union to the east, Adams-Normandie and Jefferson Park to the south and Arlington Heights to the west. The street boundaries are given as north: Pico Boulevard; east: Normandie Avenue; south: Washington Boulevard; and west: Western Boulevard.
The 2000 U.S. census counted 18,587 residents in the 0.79-square-mile neighborhood—an average of 23,473 people per square mile, one of the highest densities in Los Angeles. In 2008 the city estimated that the population had increased to 20,194. The median age for residents was 30, about the same as the city norm.
Harvard Heights was considered moderately diverse ethnically. The breakdown was Latinos, 66.3%; Asians, 13.3%; blacks, 16%, whites, 3.3%; and others, 1.2%. Mexico (32.9%) and El Salvador (24.8%) were the most common places of birth for the 57.8% of the residents who were born abroad, a figure that was considered high compared to the city as a whole.
The median household income in 2008 dollars was $31,173, a low figure for Los Angeles, and a high percentage of households earned $20,000 or less. The average household size of 3.2 people was high for the city of Los Angeles. Renters occupied 84.3% of the housing units, and house- or apartment owners the rest.
The percentages of never-married men and women, 50% and 48,2%, respectively, were among the county's highest. The 2000 census found 939 families headed by single parents, a high rate for both the city and he county. There were 501 military veterans in 2000, or 3.8%, a low figure for Los Angeles.
Just 10.3% of Harvard Heights residents aged 25 and older had a four-year degree in 2000, a low rate for both the city and the county. The percentage of residents with less than a high school diploma was high for the county.
Schools operating within the Harvard Heights borders are:
Los Angeles Elementary School, LAUSD, 1211 South Hobart Boulevard
Bishop Conaty-Our Lady of Loretto High School, private, 2900 West Pico Boulevard
The Jane B. Eisner School (New Camino Nuevo Charter), charter, 2755 W. 15th St. A middle school campus serving grades 6 through 8