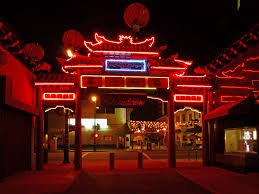 Chinatown a neighborhood in Central Los Angeles, California also famous as a commercial center for Chinese and other Asian businesses. There are a number of restaurants, shops and art galleries etc.
Chinatown is boarded with Elysian Park to the north, Lincoln Heights to the east, Downtown to the south and southwest and Echo Park to the west and northwest.
According to the United States census of 2000, 9,610 low-income residents were spending life in the 0.91-square-mile neighborhood. This number does not include population of the Los Angeles County Jail complex. Population per square mile is an average figure in the county. 37 years was the median age which was considered old as compared to the other population of Los Angeles. Chinatown is known as home of old aged residents as percentage of 65 and older was among the highest for Los Angeles County.
A high percentage of Asians was the resident of the neighborhood with very low percentage of Whites as the ethnic breakdown in 2000 was: Asian, 70.8%;Latino, 23.5%, whites, 2.5%; blacks, 1.8%, and others, 1.5%.
In 2008 $22,754 was the median household income a low figure for county and city. More than half of the households earn $20,000 or less which was third-largest in the city after Downtown and University Park. 2.8 people was the average household size which is identical with the rest of the city. A large number of the housing stock, houses and apartments were occupied by the renters as the percentage was 91 and only 9% owners choose the neighborhood to spend life.
A low figure as 8.3% of the population aged 25 and older acquired a four-year degree in 2000. Two public and one private schools serve the neighborhood, the details are as follows:
Endeavor College Preparatory Charter School, middle, 126 Bloom Street
Castelar Street Elementary School, LAUSD, 840 Yale Street
Cathedral High School, Private Catholic Boy's School, just down the hill from Dodger Stadium, is located on the north side of Chinatown.
Los Angeles Public Library operates a branch in the neighborhood.
A city and a state park serve Chinatown and a medical center is also developed.
There are city and state parks and a medical center/hospital in Chinatown. Many motion pictures have been filmed in the area.