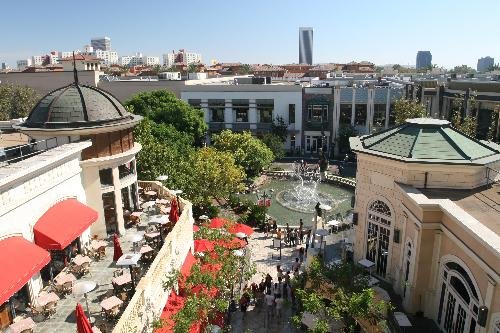 Beverly Grove is a small neighborhood in the central region of the City of Los Angeles, California.
Beverly Grove is bordered on the north West Hollywood, on the east Fairfax and Mid-Wilshire, on the south Carthay and on the west Beverly Hills. The neighborhood is bounded on the north and west by the Los Angeles city limits, on the east by Fairfax Avenue and on the south by Wilshire Boulevard and San Vicente Boulevard.
The 2000 U.S. census counted 21,417 residents in the 1.65-square-mile neighborhood—an average of 12,990 people per square mile, fairly normal for Los Angeles. In 2008, the city estimated that the population had increased to 22,855. The median age for residents was 38, old for both the city and the county.
The percentage of white people living in the area, 82%, was high for Los Angeles County. Other ethnicities in 2000 were Latinos, 6%; Asians, 5,1%; blacks, 2%; and others, 4.9%. These figures made the neighborhood "not especially diverse." Iran (20.2%) and Poland (7.4%) were the most common places of birth for the 36.3% of the residents who were born abroad, a figure that was considered average for the city as a whole.
The median household income in 2008 dollars was $63,039, average for Los Angeles. The average household size of 1.7 people was low for Los Angeles. Renters occupied 74.8% of the housing units, and house- or apartment owners the rest.
The percentages of never-married men and women, 53.2% and 40.5%, respectively, were among the county's highest.
There is one private elementary school. It is home to the eight-story Beverly Center shopping center and several luxury shops on Robertson Blvd. Exactly half of Beverly Grove residents aged 25 and older possessed a four-year degree in 2000, a high rate for both the city and the county. The percentage of residents with a master's degree was also high.
Perutz Etz Jacob Hebrew Academy, a private elementary school at 7951 Beverly Boulevard, was the only school operating in the neighborhood.
The neighborhood is home to Beverly Center shopping center, which was opened in 1982 by developers A. Alfred Taubman, Sheldon Gordon and E. Phillip Lyon. (The site's former occupant was a small amusement park known as Beverly Park and Kiddyland, featuring a ferris wheel, merry-go-round, and mini roller-coaster, and a pony ride known as Ponyland.)